1000 villages, 2015.
Drawings on double pages and notebook cover. Graphite, marker and transfer on paper and tracing paper.
With the support of the 56th Venice Biennale, All the world's futures. 2015

Collection of the Frac Centre Val de Loire, Orléans. France.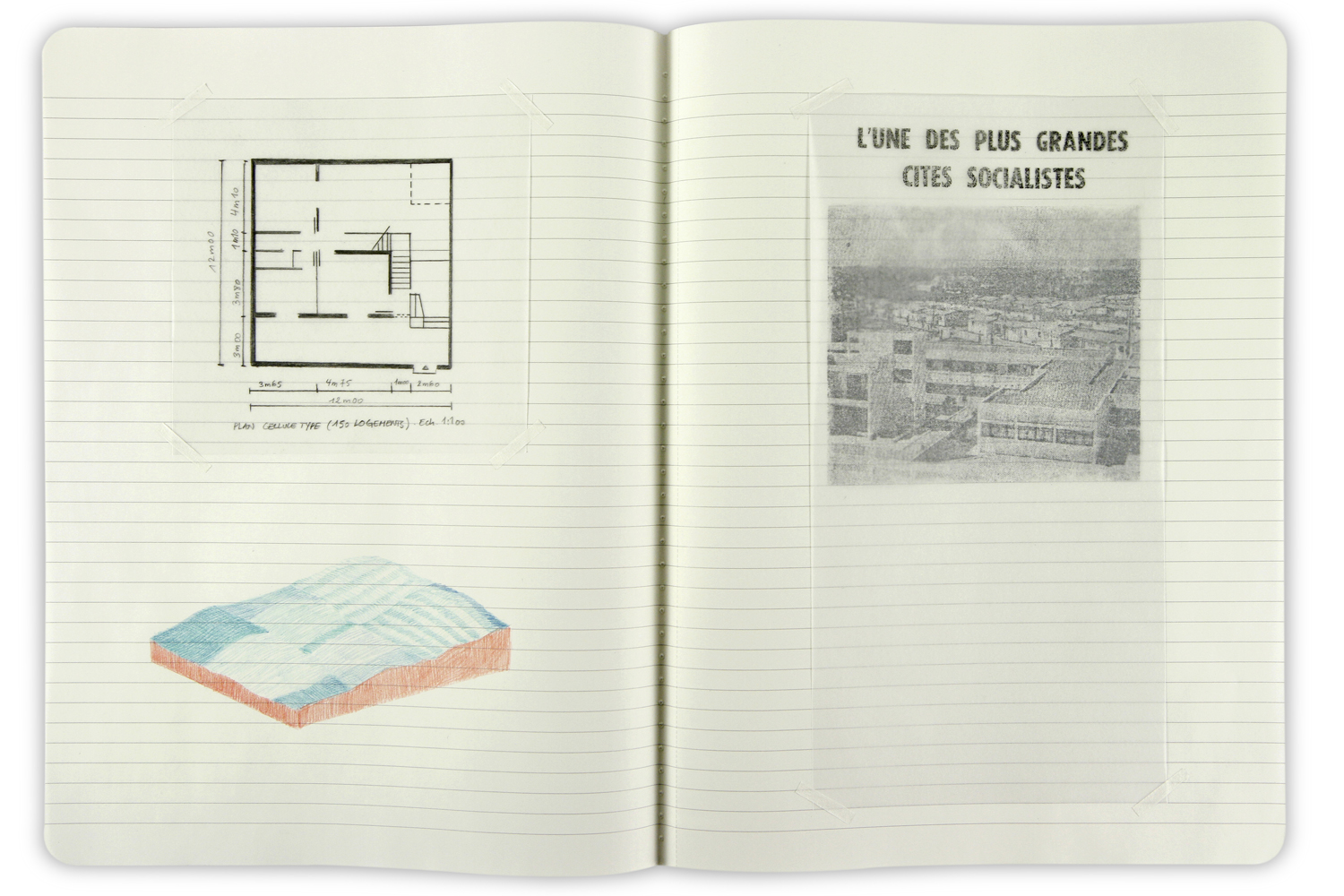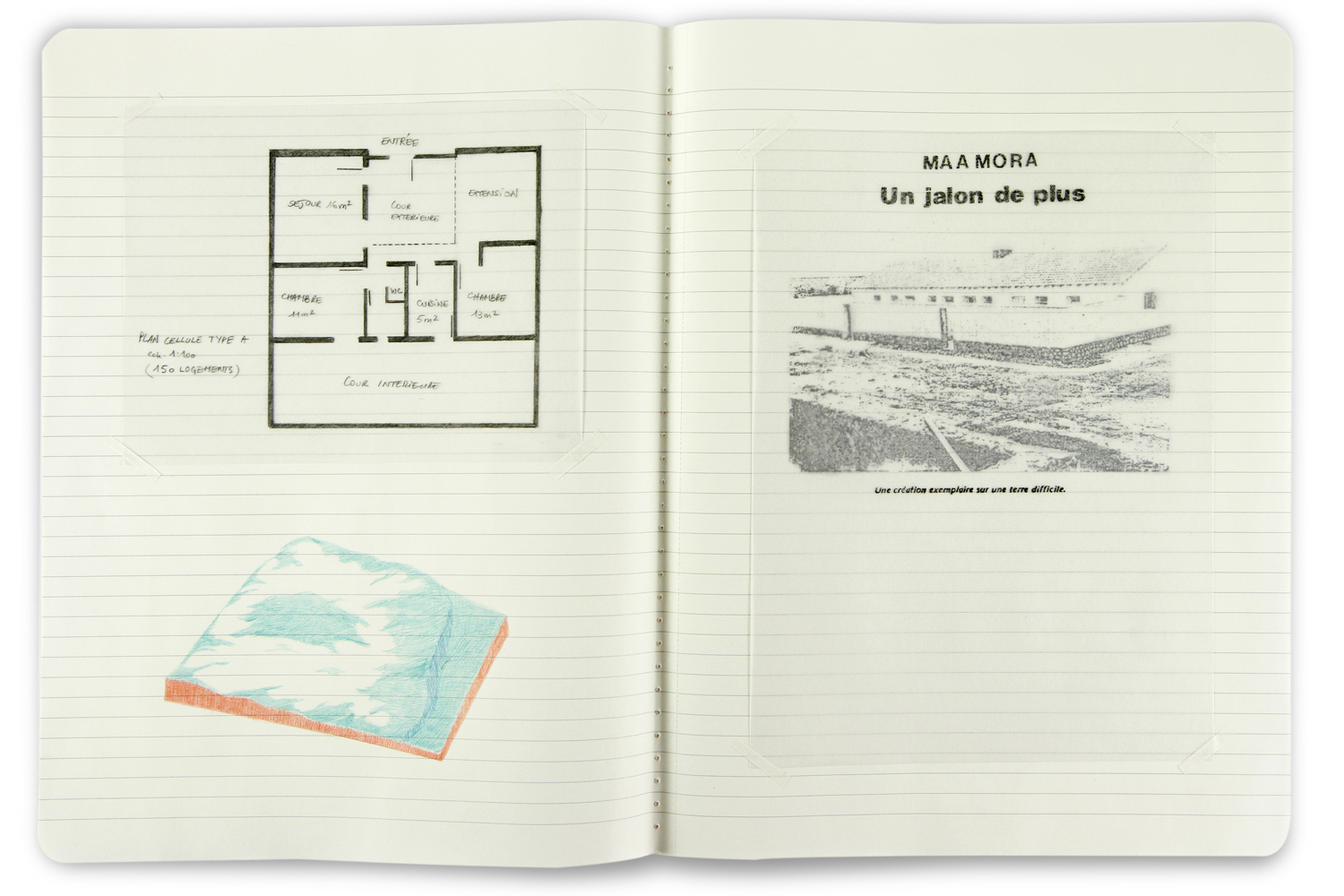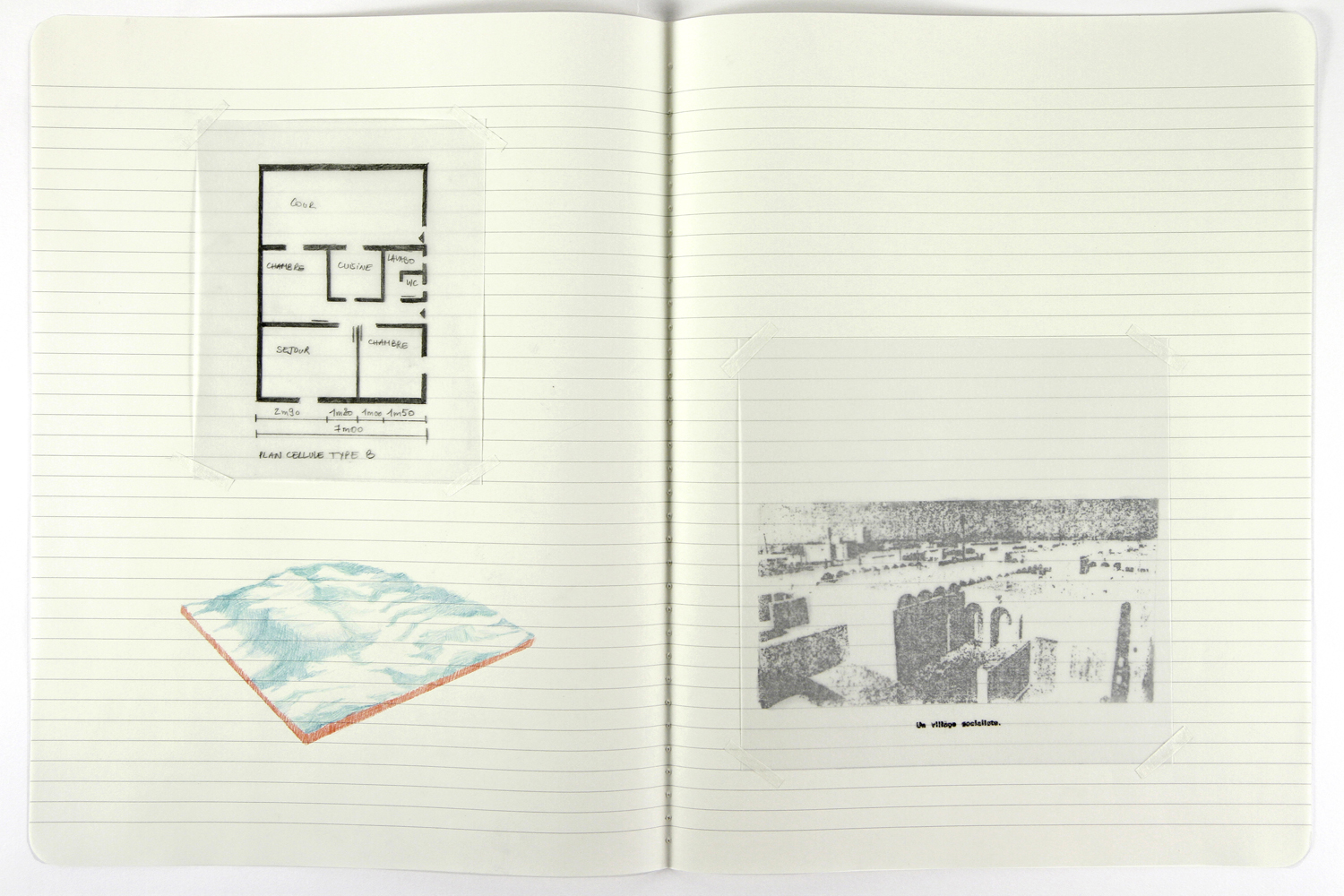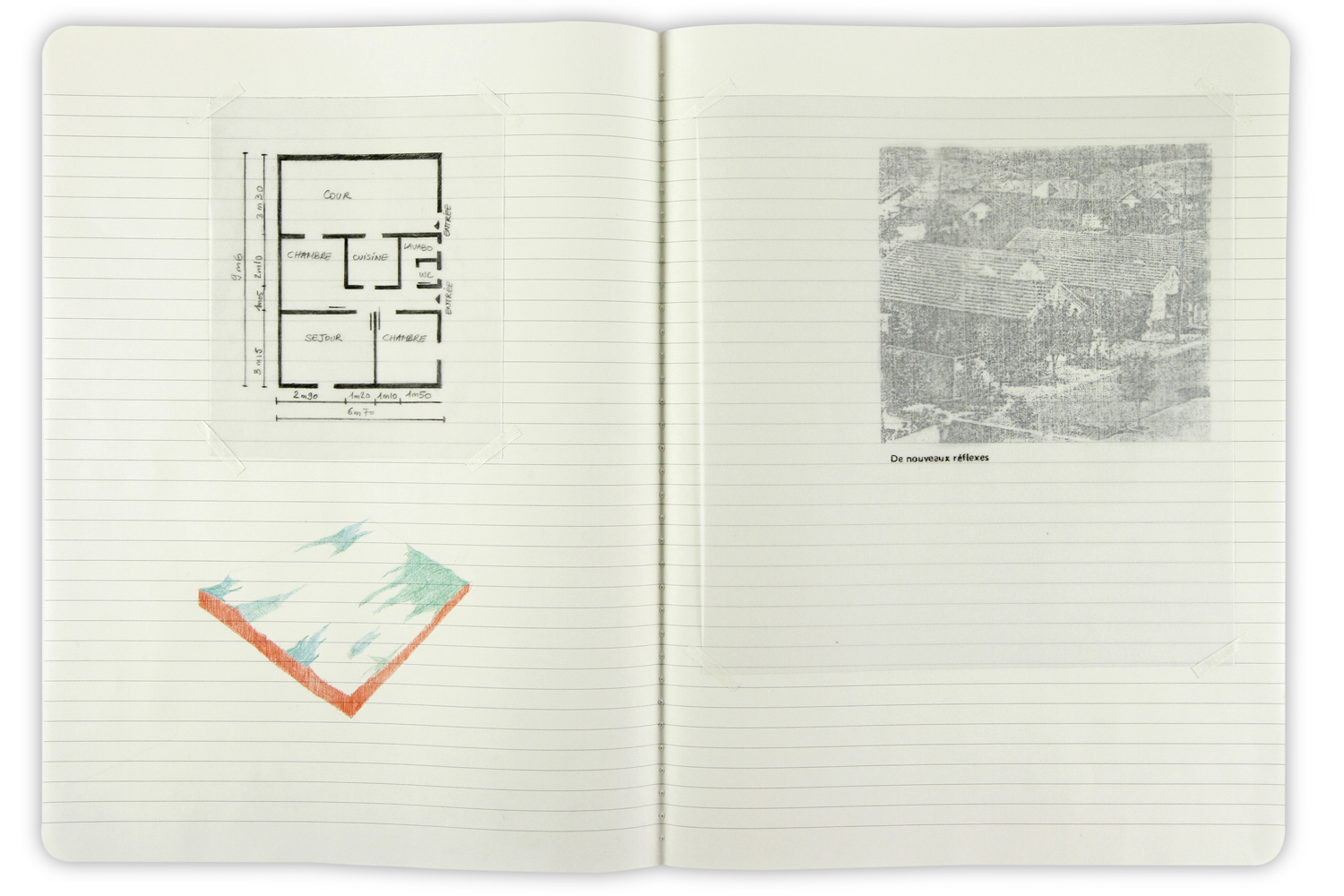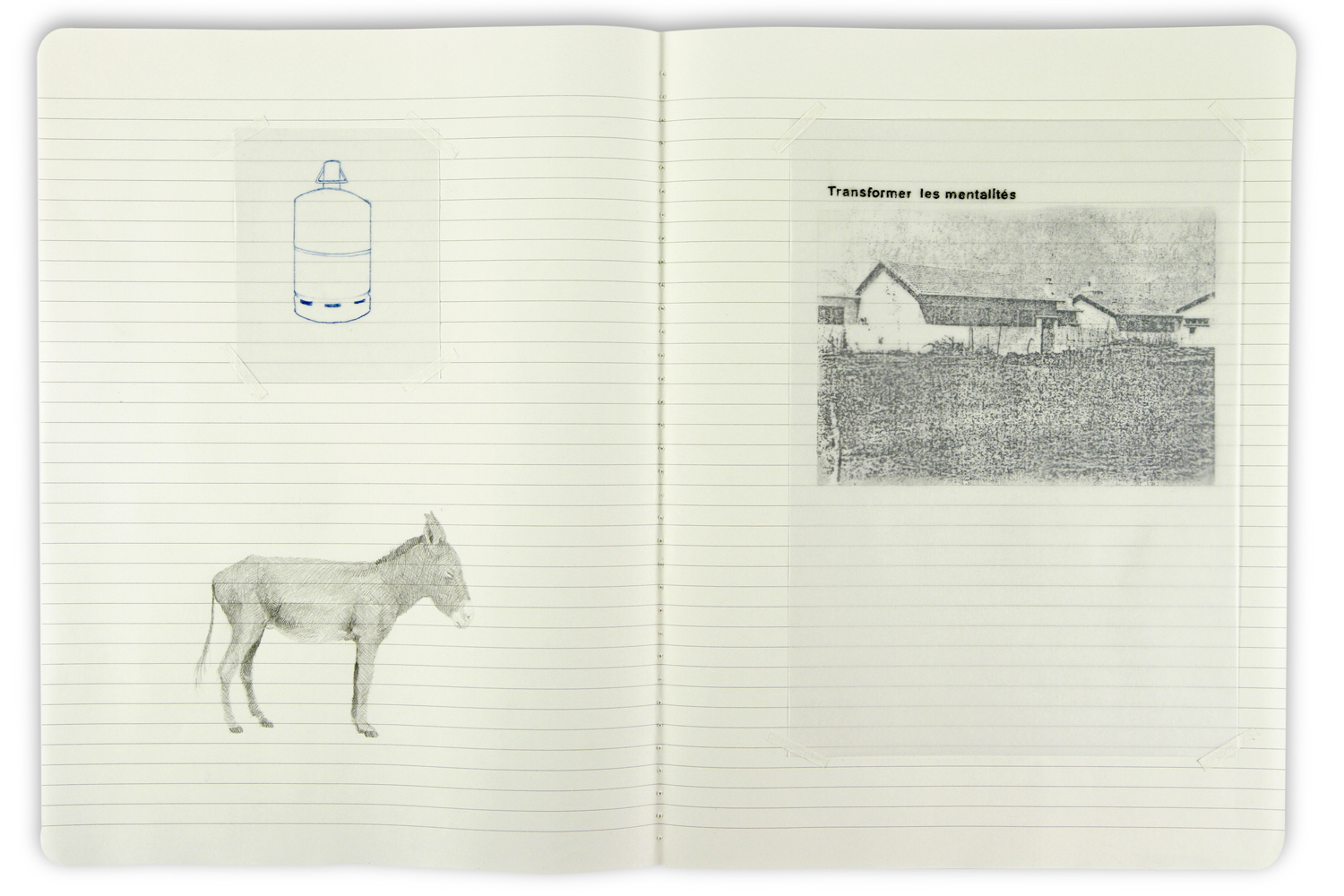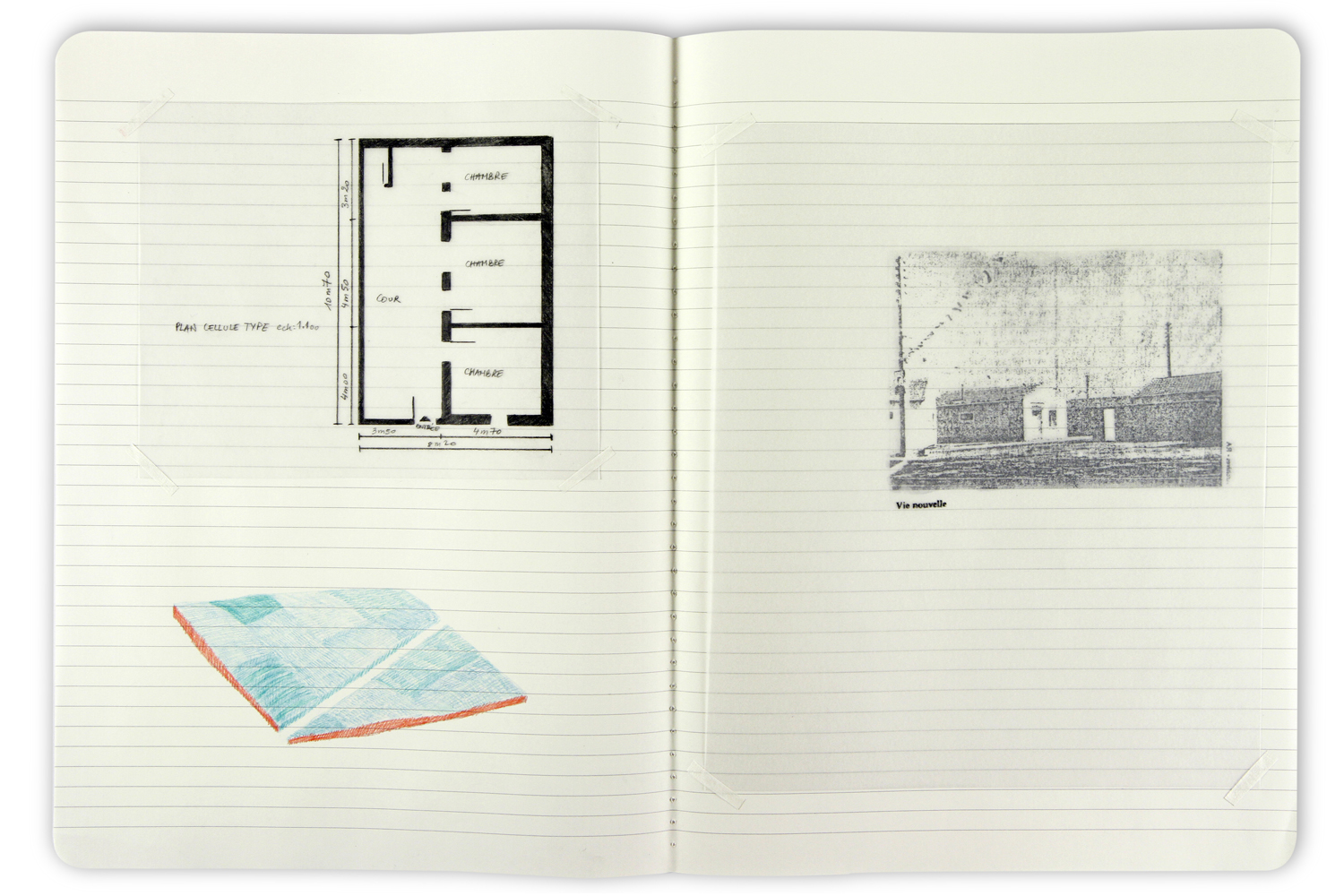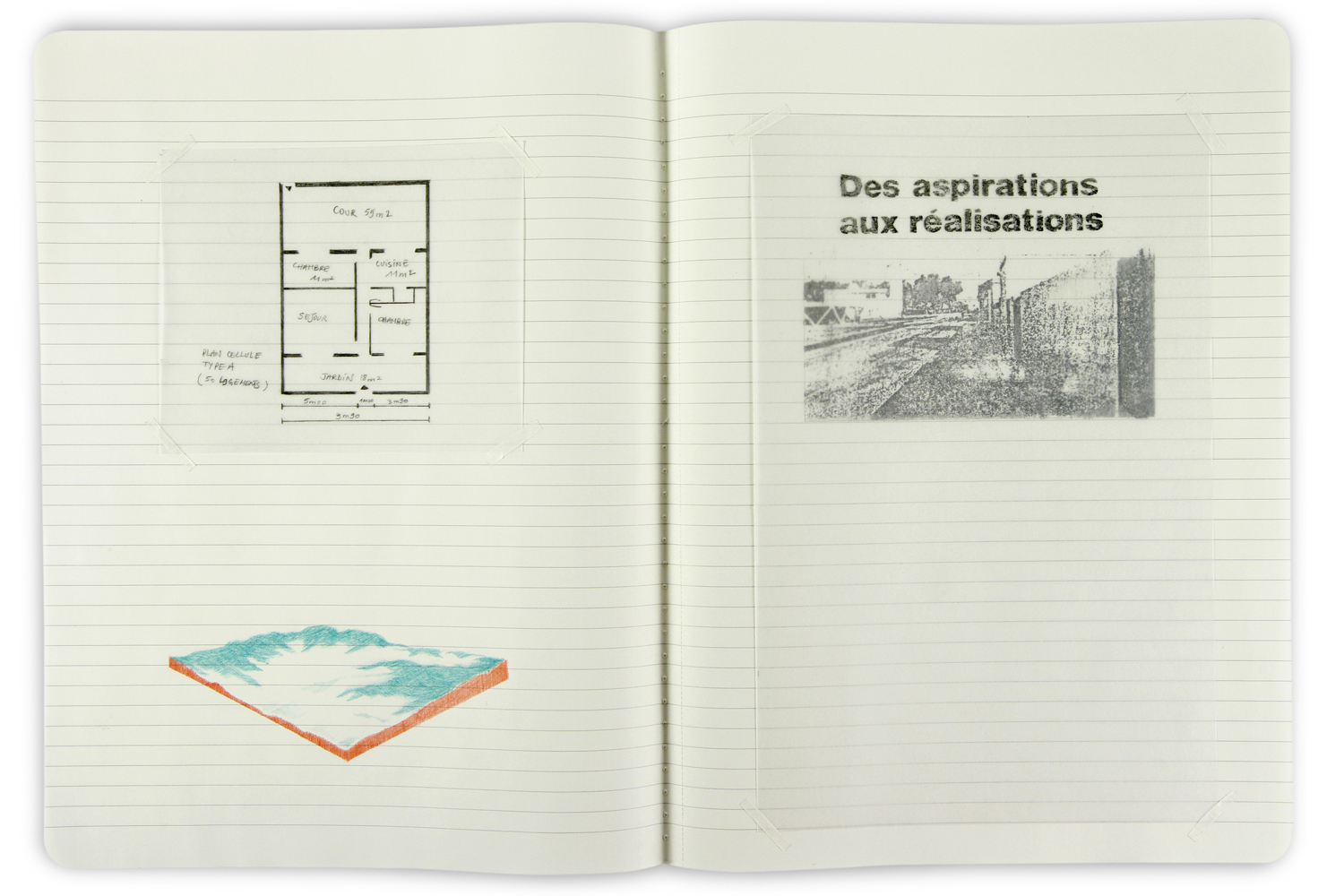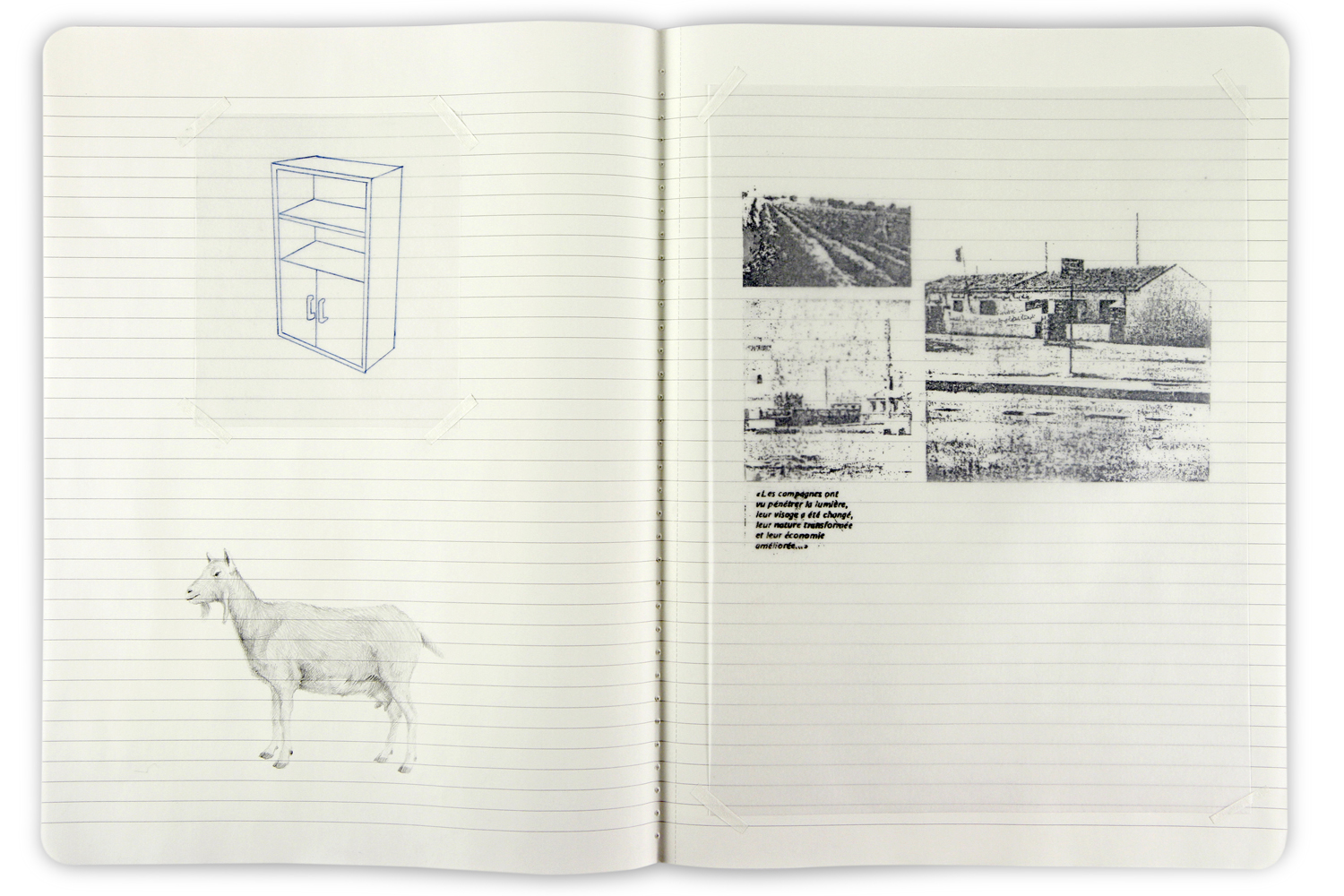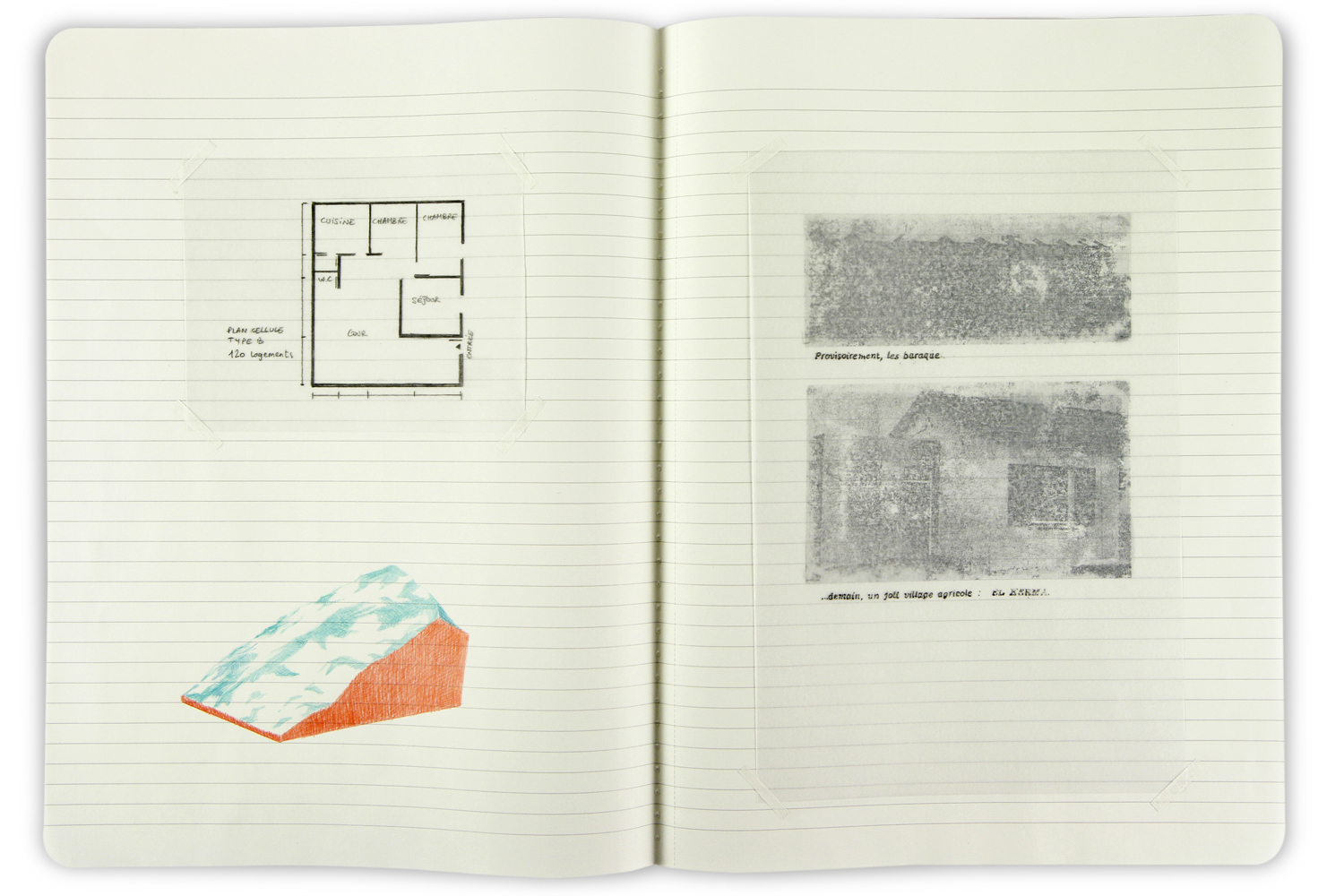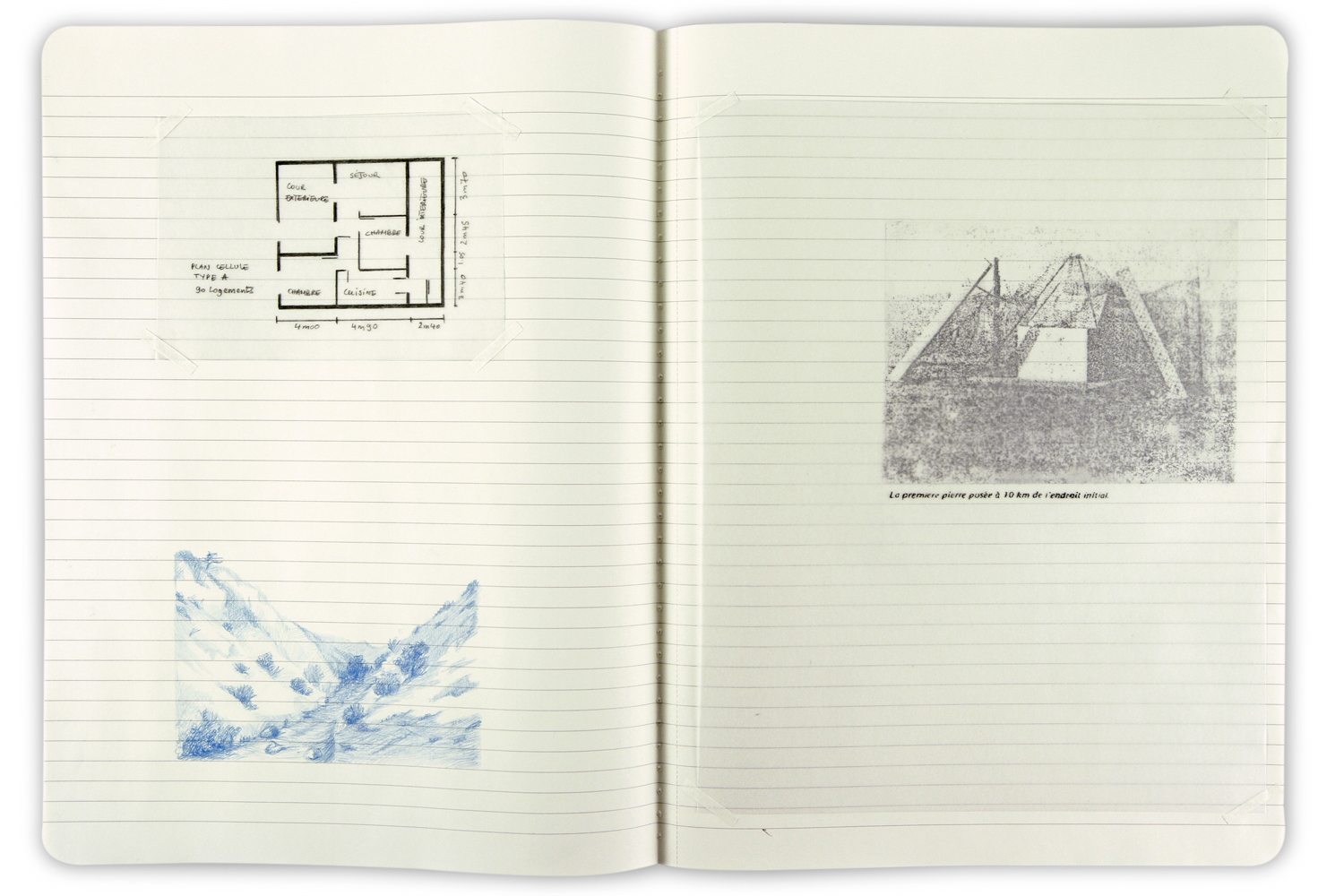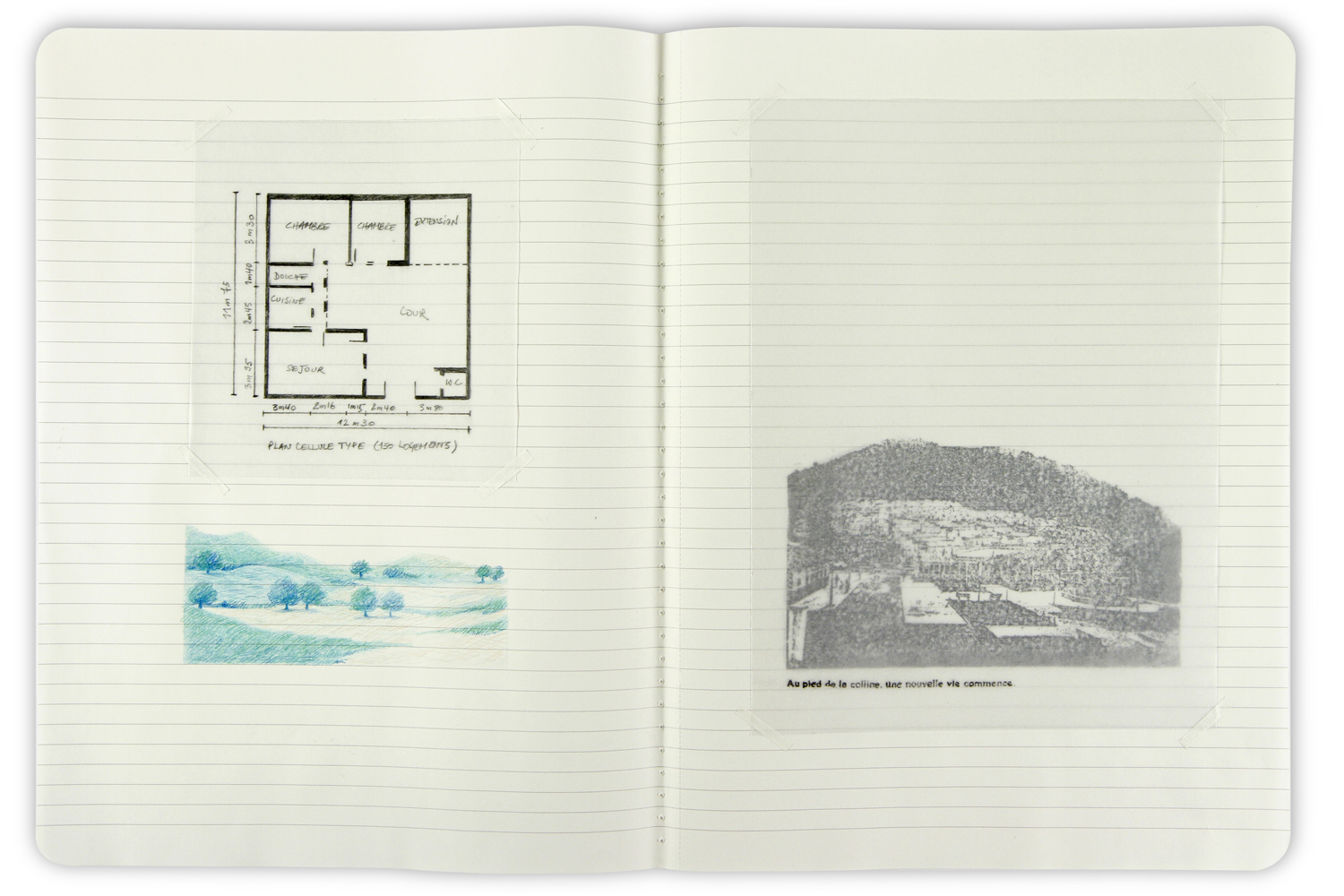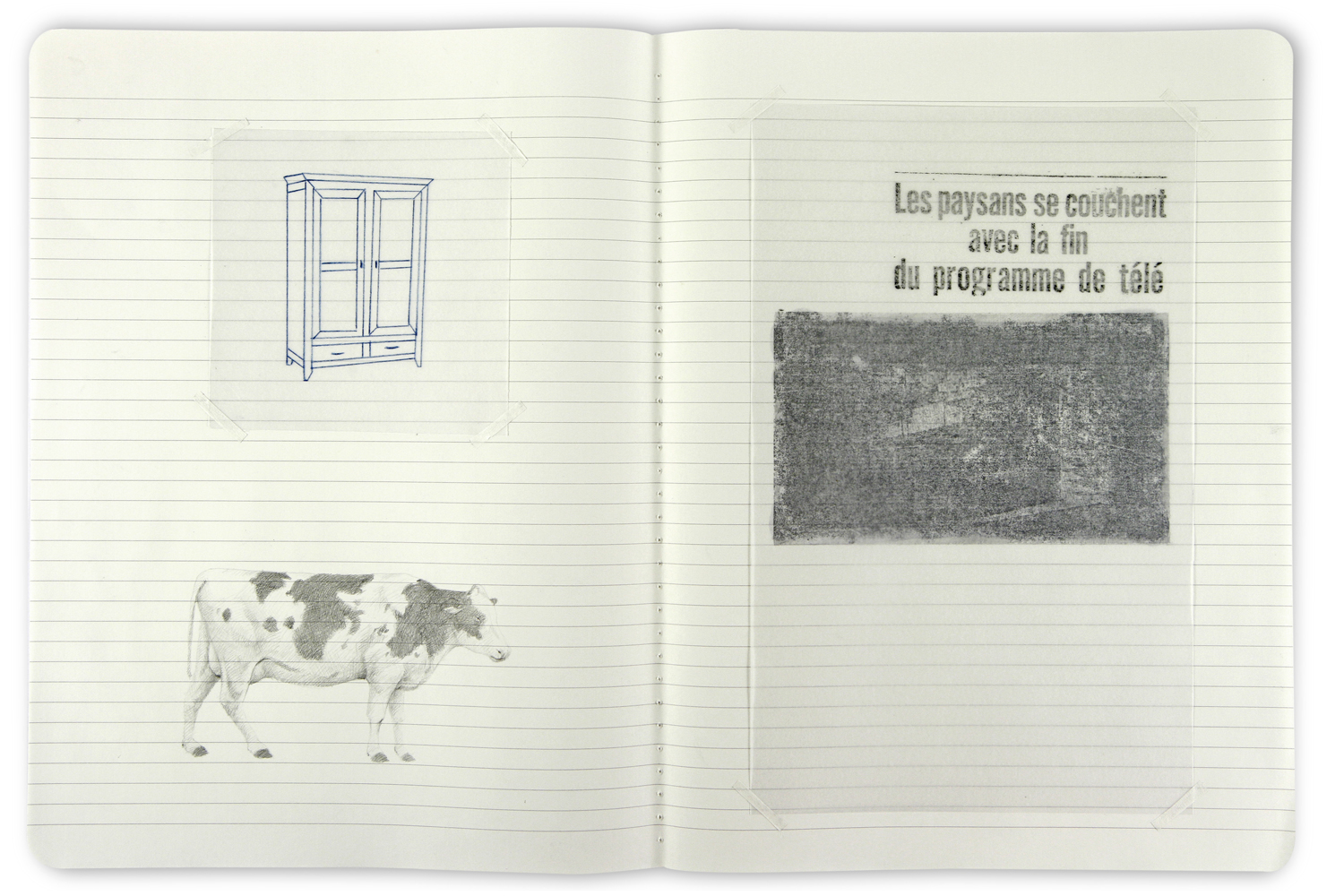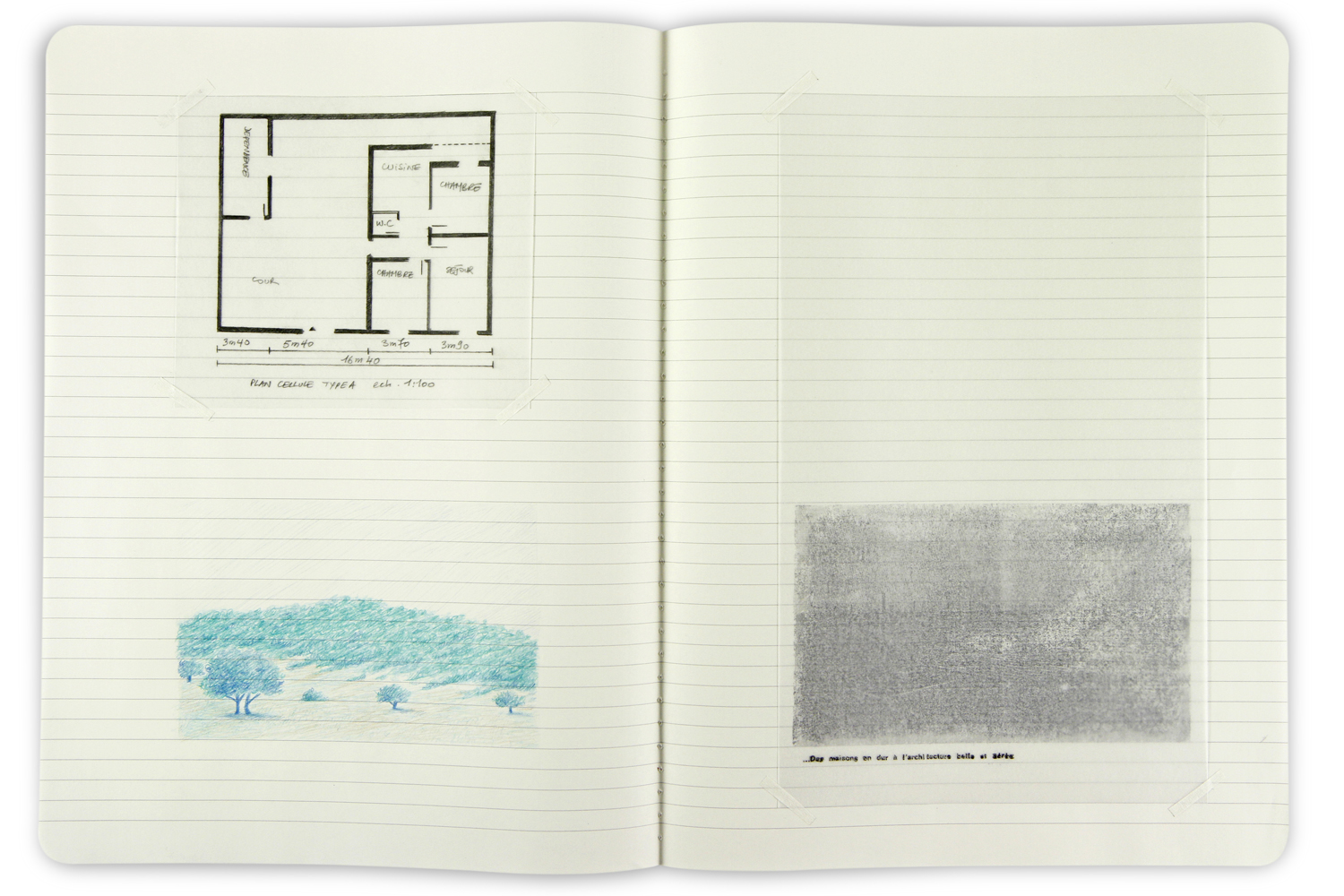 At the beginning of the 70's, the construction of 1000 so-called "socialist villages" was launched in Algeria in order to get the rural population out of isolation and poverty, to return its land, which had been taken away during the colonization, to encourage it to adopt a modern agriculture and to get it involved in the Algerian revolutionary project through agriculture.
Despite a laudable intention at the outset, the project could not be fully implemented, because often the implementation and construction of these villages, with few exceptions, were met with ideological or administrative considerations imposing standards of production at the expense of the farmers' real needs. The population gradually lost interest in the project, which was terminated a few years later.
The work presented here is the first step of a project called 1000 Villages. The drawings are arranged in a narrative logic based on elements confronting each other: house plans, furniture drawn on tracing paper; drawings of spaces, agricultural land and animals. The images, reproduced using the transfer technique, are based on copies of newspaper clippings of that time. They are increasingly illegible as we approach the collapse of this utopia until the last image, which becomes almost ghostly. The only possible reading of these reproductions comes from the caption printed on tracing paper, which restores the mental space of the original newspaper article.
In addition to these drawings, another drawing was created on the cover of a notebook based on those sold in the 70s-80s in Algeria, which promoted the Algerian agrarian and industrial revolution.
Au début des années 70, fut lancée en Algérie la construction de 1000 villages socialistes dans le but de sortir de l'isolement et de la précarité, la population rurale, de lui rendre ses terres spoliées durant la colonisation, de la mener vers une agriculture moderne et de l'impliquer dans le projet révolutionnaire algérien, notamment à travers la révolution agraire.
Malgré l'intention louable du départ, le projet n'a pu être concrétisé en sa totalité, car bien souvent l'implantation et l'édification de ces villages, à quelques rares  exceptions près, se sont heurtées à des considérations idéologiques ou administratives imposant des normes à reproduire au détriment des réels besoins des paysans. La population concernée s'est progressivement désintéressée du projet qui fut arrêté quelques années plus tard.
L'installation est structurée autour de dessins organisés suivant une logique narrative basée sur des confrontations d'éléments : plans de maison, meubles dessinés sur papier calque ; dessins d'espaces, de terres agricoles et d'animaux. Les images reproduites au transfert proviennent de copies de coupures de presse de l'époque. De plus en plus illisibles au fur et à mesure qu'on approche de l'effondrement de l'utopie, jusqu'à la dernière image quasi fantomatique. La seule lecture des reproductions provient de la légende imprimée sur un papier calque qui restitue l'espace mental d'un article de presse.
En marge de ces dessins, un autre a été réalisé sur la couverture d'un cahier inspiré de cahiers vendus durant les années 70-80 en Algérie, faisant la promotion de la révolution agraire et industrielle algérienne.